LLL Award finalists 2015 announced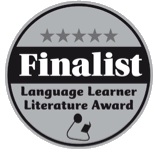 The Extensive Reading Foundation (ERF), an unaffiliated, not-for-profit organization that supports and promotes extensive reading in language education, announced the finalists of the 12th Annual Language Learner Literature (LLL) Award for books published in 2014.
An international jury chose the finalists in five book categories, taking into account online votes and comments of students and teachers around the world. The winning books will be announced at the Third World Congress on Extensive Reading in Dubai, 18-20 September 2015., and concurrently on ELTBooks.com.
You can order (almost) all the shortlisted books from ELTBooks.com, where you can also see an overview of all winning titles and finalists.
See also:
•
More articles on Extensive Reading
•
Participate in Vote (login: guest, access key: 2015-evals)
(until 30 Jun 2015)
•
Order finalists (20% off, Japan only)
« Previous | Main | Next »